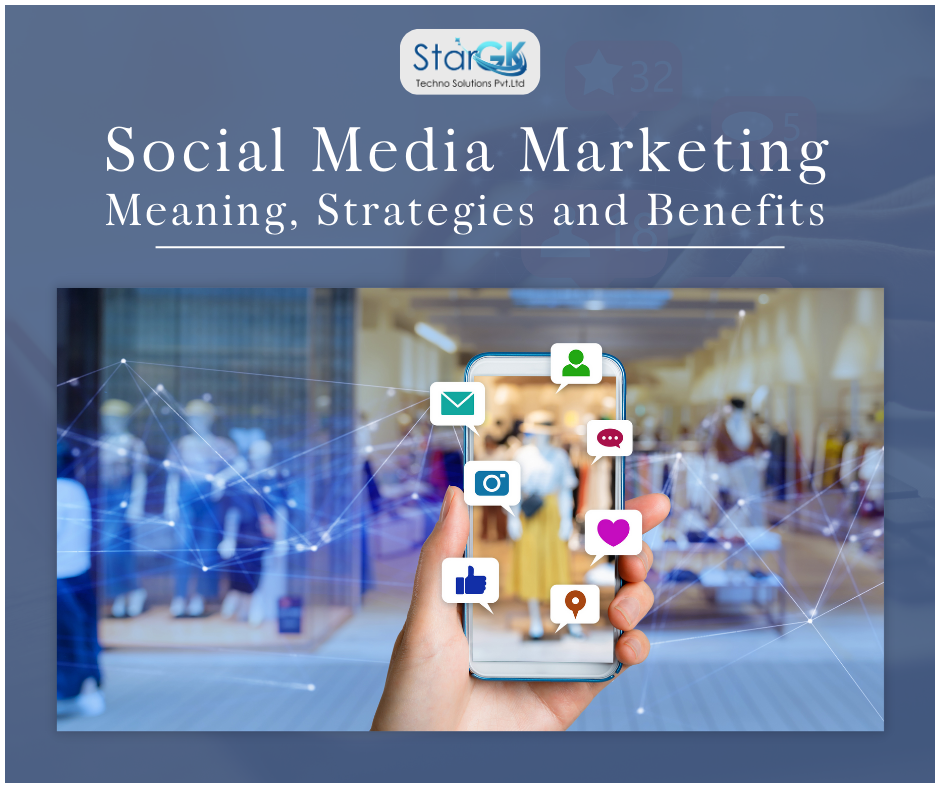 Social Media Marketing: Meaning, Strategies and Benefits
Social Media Marketing Meaning
Social media marketing (SMM) is the use of social media—the platforms on which users create social networks and share information—to build a company's brand, increase sales, and drive website traffic. By understanding social media marketing meaning and using social media marketing (SMM), marketers can track the success of their efforts and identify additional ways to engage, as well as engage with existing customers and reach out to new clients.
Strategies for Social Media Marketing
A social media strategy or plan is similar to a blueprint or a thorough statement of your objectives for using social media and how you intend to accomplish them.
You can boost conversions and increase traffic to your website with a well-thought-out approach and Strategies for Social Media Marketing. There are a lot of social media marketing strategies. Before choosing one, one should complete their investigation.
A variety of approaches and strategies for social media marketing are being used to engage users and promote goods and services. These include audience-specific advertising, the usage of conversational chatbots, personalizing online consumer experiences, using social media influencers, growing an online audience, and more.
Setting goals and sticking to a social plan are necessary when using social networks to direct traffic towards your target market. However, some of the social media tactics listed below could put you on the road to greater brand recognition and a completely new social media presence.
Begin utilizing chatbots
Chatbots are trendy, as you may have previously heard. They are the only social media management platform that can engage with and address consumer issues without the chance for human interference, so this comes as no surprise.
Give Your Customers a Personalized Experience
When used properly, chatbots may help you automate routine processes while also enabling you to give your clients more individualized experiences.
Make Your Audience a Community
You must demonstrate to your viewers that you are more than a machine. Create posts with personality by including comedy and feelings so that your audience can connect with your brand.
Design a successful content marketing strategy
In addition to the aforementioned, high-quality SEO content can assist you in attracting the correct clients at the appropriate moment. An organic audience can be attracted with the use of effective content marketing, which may also be free.
Along with your optimized and informative content, be sure to develop a relevant hashtag strategy.
Benefits of Social Media Marketing
Considering the benefits of social media marketing, every organization's sales and marketing strategy now includes social media marketing. More people can access content and messaging through this additional channel than through a personal contact list could ever hope to reach.
These are a few benefits of Social media marketing 
Huge Exposure
Just one post share can greatly increase a brand's exposure. On social media, businesses engage with their clients as well as market to them. In addition to one-on-one interactions, customer service can benefit from this as well.
Economical Tool
The cost of managing a social media program can be low if done correctly. Marketing teams find it simple to use with little overhead once the knowledge, team, and program strategy are in place.
Boost website traffic
Social media posts are an excellent way to drive traffic back to a company's website. Users can engage with a brand more by clicking through on blog content, landing pages, and other offers.
Improve your understanding
Using each social media platform's analytics and reporting features provides insight into who page followers are, what content they are interested in, and how they prefer to interact with a brand.
The Bottom Line
Social media marketing must play a role in achieving your business objectives. Strategies for social media marketing can help you expand your pool of potential customers, raise brand awareness, and create opportunities for new product partnerships.
Keep in mind that tools like chatbots and content calendar automation can be extremely useful in streamlining operations.
Remember that your customers are real people, not just numbers on social media.
You must create and distribute content that will stand out to them during mindless scrolling — this entails employing content strategies to create campaigns that they will connect with and care about. You will be able to set your company apart from the competition if you do this.