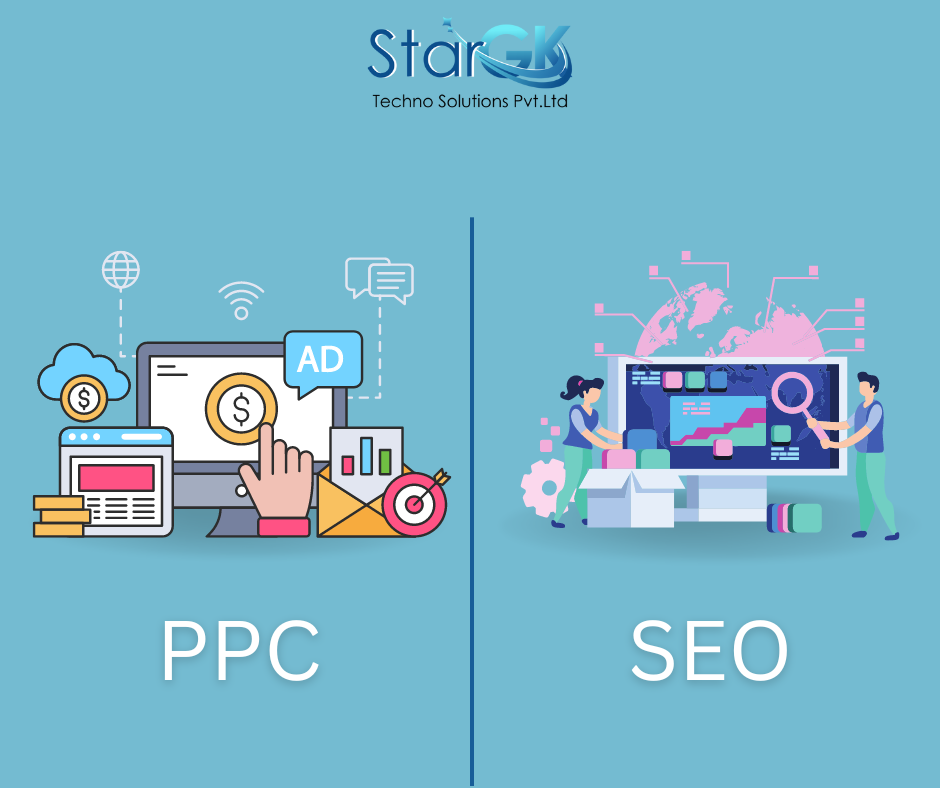 Difference Between SEO and PPC
Allocation of your marketing budget needs a lot of critical thinking and effort. There are different factors which need to be considered and various distinctions to invest in, including the difference between SEO (Search Engine Optimization) and PPC (Pay-Per Click).
SEO helps in getting higher ranks for websites on Google Search whereas PPC ads refer to paid online ads where the advertiser or the website owner pays a fee each time their ads are clicked. SEO and PPC are the most common methods of digital marketing, let us know more about these two methods and the differences between the two. 
What is SEO?
SEO, an abbreviation of search engine optimization, refers to the digital marketing practice of posting content on a website to improve the visibility of the website to search engines and their users. SEO helps your website show up at a higher ranking in relevant searches.
What is "PPC"?
Google Ads is Google's pay-per-click (PPC) digital marketing solution, that lets businesses bid on keywords to show ads in Google search results.
When you use Google Ads as your digital marketing solution, you need to pay only when someone clicks on the ad given by you to visit your website or call your business. In addition, you can also tweak your advertisements anytime to reach a particular squad of people based on their interests, geographical area, etc to promote a specific product. 
Let us now discuss the main differences between SEO and PPC. 
Though, both SEO and PPC are components of Search Engine Marketing (SEM) which is one of the crucial tools of the Internet Marketing campaign, there are some differences between the two.
The main difference between Search Engine Optimization (SEO) and Pay Per Click (PPC) is the traffic that it attracts. The traffic that comes in by SEO (organic) is free while traffic that is generated from PPC is paid based on cost per click).
Another difference is the cost.
The cost involved in SEO is indirect. You do not have to pay a fixed amount to get to the first page. The cost that you need to pay for SEO services depends on the digital marketing company from where you are availing of the services. The cost involved in PPC is direct which means you need to pay only when people click on your ad. For this, one can use the Google keyword tool to calculate the amount to be paid.
The next important difference between SEO and PPC is conversion. SEO traffic is better in comparison to other forms of traffic including social media. However, in terms of conversion, SEO is not as good as PPC traffic. PPC uses highly optimized keywords that generate more conversions.
What is better, investment in SEO vs PPC ads?
Depending on your business goals, SEO and PPC are helpful for your business in different styles.SEO is a crucial tool for successful digital marketing as it offers the best chance for your business to be found by potential clients, however, the optimization process takes time to get set right. In the case of PPC ads, they reach customers immediately and customize your digital marketing campaign.
If your business goal is to drive traffic to your website quickly, you might go for PPC ads, however, if you wish to focus on enhancing the online presence of your business in the long run, SEO is the best solution. Investment in both SEO, as well as PPC, is recommended for a well-rounded digital marketing strategy.