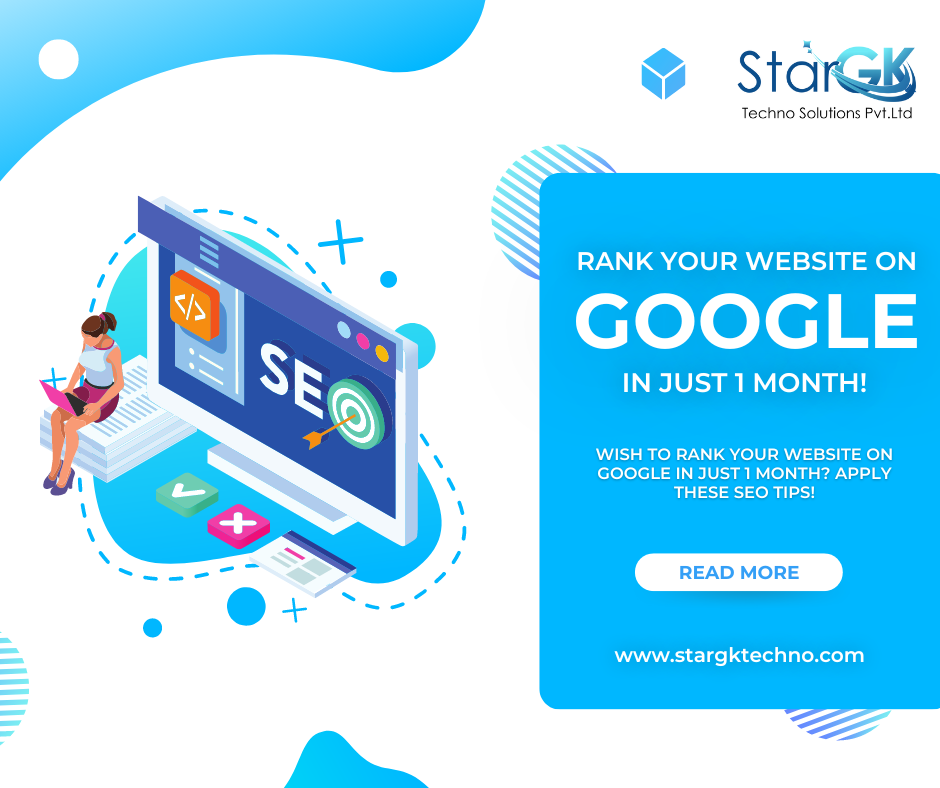 Rank your Website on google in just 1 month
Wish To Rank your Website on Google in just 1 month? Apply these SEO tips!
Obtaining a high ranking in the SERPs for a new website is a difficult task. Google's and other search engines artificial intelligence is constantly becoming smarter and more discriminating. If you're new to the market, you'll have to earn the trust of search engines, which will take time and effort. A smart interface, regular blog posts, business listing submissions, social shares, keyword optimization, and, most importantly, a strategy for obtaining backlinks from trusted and niche sources are all required. Here are the best practices strategies employed by the top SEO firms.
Go for Keywords with Low & Medium Search Volume
Keywords that consist of one or two words are typically the most searched. Because of competition from larger companies for the same position, ranking for such keywords will be difficult if you are new. Instead, look for long-phrase keywords that include three or more words and have less competition. For example, "Best SEO in Jaipur" is a high-volume, high-competition keyword. Meanwhile, "Professional SEO Services in Jaipur" has a medium search volume but much lower completion.
As a result of using "Professional SEO Services in Jaipur," your website will not only rank faster, but it will also rank higher with the keyword "SEO Jaipur," as both the words SEO and Jaipur are present in "Professional SEO Services in Jaipur."
Make your content skimmable
Google is increasingly focusing on providing answers rather than just a list of pages. As a result, the term "zero-click search" refers to a situation in which a user can obtain the information they seek direction from the results page without having to click on any individual result.
Making your content skimmable is the best way to optimize for this. This allows Google to extract snippets of your content and use them to create answer-y results, such as the Featured Snippet, Passage Ranking, and even meta descriptions.
Avoid Using Money Keywords
Getting leads by targeting money keywords is difficult for a new business because other companies have been targeting the same keywords for years. As a result, the best way to generate leads for a new business is to find out what information about your industry your target customers are looking for and create content specifically for that. Do a search for "how to" keywords that you can use to create content.
Apply Keyword Modifiers
Consider adding a keyword modifier if you're having trouble ranking for low and medium-search volume keywords. If you can't get a good rank with "Professional SEO Services in Jaipur," try "Quality SEO Services in Jaipur" or "Best SEO Services in Jaipur." With this method, your website can receive clicks and impressions for all of those semantic keywords, as well as the opportunity to appear in related search queries.
Include useful visuals
In a few ways, including images on your page can help it rank higher. First, it creates more engaging content, which keeps visitors on the page longer; second, regular search results are becoming more visual; and third, it allows your images to rank in image results.
However, for those blog posts that you want to rank higher, stock images and empty graphics will not suffice. Images that illustrate concepts, add value and match the intent of the keyword are required.
In order to meet searchers' expectations, Google the keyword before writing content about it to get a sense of how essential visuals are as well as which visuals are coming up.
Align Your Content to Search Intent
"Search Intent" is the latest SEO buzzword.
Google can now determine if your site is a good fit for a specific keyword, thanks largely to RankBrain.
In other words, Google monitors how visitors interact with your website.
And if people get what they're looking for on your page, your rankings will rise.
Buy Traffic
Above all, the amount of traffic to your website has a significant impact on its ranking. Organically gaining a large number of users for a new website is only possible when you post content on trending topics. To get a steady stream of visitors to your website, you must purchase traffic. Visits can be purchased from a variety of sources. However, Google is the most trusted source of all. As a result, you can run PPC campaigns for a month and buy traffic to help search engines rank you higher.
Try these tips and SEO strategies to get your site ranked in less than a month. Good luck!