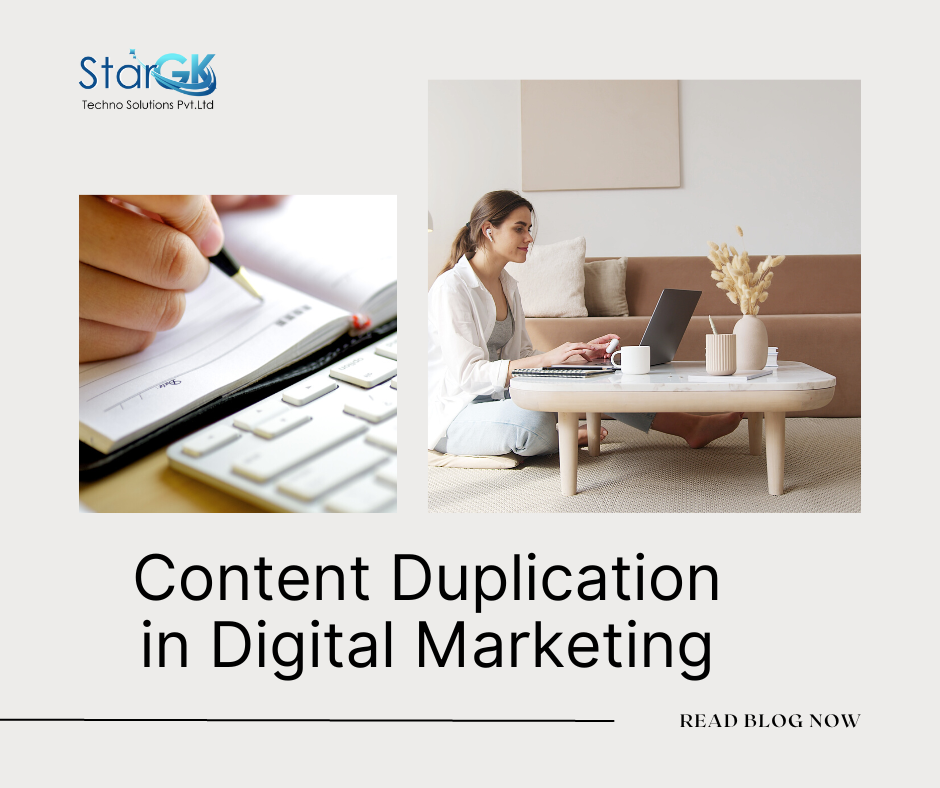 Content Duplication in Digital Marketing
Whether the duplicate content on a site is unintentional or the result of someone stealing text from your web pages, it must be addressed and handled correctly.
You're probably aware that your website should always include unique content. Duplicate content on your site is a huge mistake that can harm your site's ranking and reputation. It makes no difference whether you manage a small business or a large corporation's website; every site is vulnerable to the threat that duplicate content poses to SEO rankings.
To understand it more deeply, let us first understand the meaning of duplicate content, and the way to figure it out and rectify the same.
What is Duplicate Content?
The significant paragraphs of identical or strikingly similar content that occurs on multiple web pages, either inside the same domain or across other domains, are referred to as duplicate content. Duplicate content occurs when you upload someone else's writing to your website or when they publish yours.
Duplicate Content & SEO Ranking
Plagiarism, or misrepresenting someone else's work as your own without permission, is prohibited both online and offline. Duplicate content can result in Google penalizing you by lowering your page rank or removing your website entirely from search results. This defeats the purpose of publishing content in the first place. 
Another possibility is that others will duplicate the content on your site and try to use it without your permission. These marketers may openly use your content on their websites without asking or notifying you, and they may end up outranking you in search engines. 
Since comparable web pages harm user experience, search engines avoid including them in search results, making duplicate content a concern for SEO. When there is a lot of similar information, search engines may find it challenging to determine which is more pertinent to a search query. Here, we are listing out some amazing Free Duplicate Content Checker Tools that will help you find duplicate content. 
Free Duplicate Content Checker Tools
You might unintentionally make your content too similar to previously published information when composing it. To ensure that your content is perceived as original, it is always a good idea to double-check anything you write utilising plagiarism checkers. Many of these Duplicate Content Checker Tools are free to use.
Read on to discover some useful, easy and free tools to check duplicate content: 
With this free duplicate content checker tool, you can quickly check whether or not your content has already been published. The comparison tool will point out duplicate content and inform you of the percentage of your content that corresponds to previously published content. 
This is an excellent duplicate content checker tool for checking your entire site for duplicate content once a month. It can also detect broken links and identify the pages that are most visible to search engines. 
This tool can detect duplicate content pages on the internet. It's a free duplicate content checker tool for tracking down plagiarists who have stolen your content. It also enables you to automatically monitor your URLs on a weekly basis in order to detect duplicate content. 
This duplicate content checker tool quickly verifies the originality of the content you intend to post on your website. Registered users have the ability to conduct up to 50 searches per day.
Premium Duplicate Content Checker Tools
Premium duplicate content checker tools can detect duplicate content by employing advanced algorithms. Premium plagiarism detection software typically provides reports that can verify proof of originality. These reports, which can be saved in PDF format, can be used to refute future claims that your work is not original.
Premium tools for checking for duplicate content include:
Plagiarismcheck.org

– Finds exact matches as well as paraphrased text.

Grammarly

– Grammarly's premium tool includes duplicate content checker tools as well as tools that examine grammar, word choice, and sentence structure.

Plagium

– this duplicate content checker tool provides a free quick search and a premium deep search.
Measures to Rectify Content Duplication
If you're concerned about duplicate content on your website, take a look at the best practices listed below:
If you don't want duplicate content on pages on your site to appear in search results, use the noindex tag to deindex them.

To redirect traffic from old or retired URLs to new URLs, use 301 redirects.

Canonicalization is used to tell Google which version of a page has the "canonical" URL if there are multiple versions with very similar content. Instead of hosting multiple pages with very similar content, consider consolidating similar pages. 
Conclusion: Duplicate content is correctable and should be corrected.
Duplicate content is common. It's something you have to keep an eye on all the time, but it's fixable, and the rewards can be plentiful. Simply by removing duplicate content from your site, your quality content could skyrocket in the rankings!
Examine your technical SEO fitness.
Duplicate content removal is an important part of technical SEO. 
Are you curious about the overall technical SEO health of your site?
We have a special technical SEO team to help you determine what you need to work on!