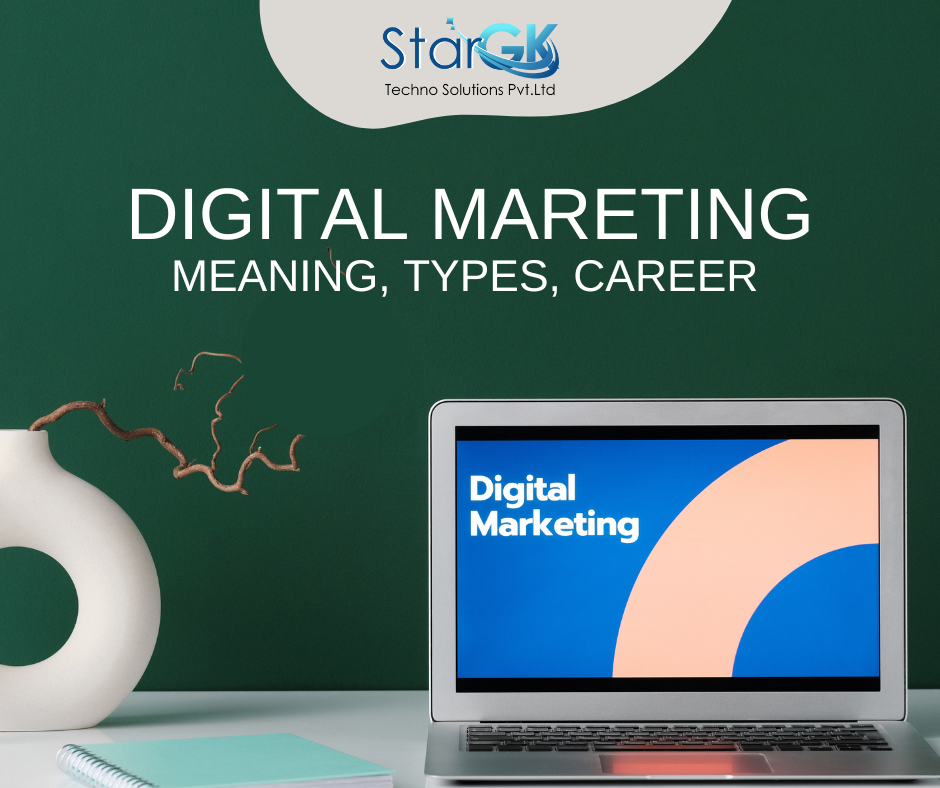 Digital Marketing Meaning, Types, Career
Digital marketing is a broad term that includes a variety of topics, including SEO, blog writing, distribution channels, and budgets. You can create your own digital marketing strategy to optimize advertising through online channels like search engines, your websites, social media, email, and mobile apps by understanding the key pillars of digital marketing, which we'll help you do in this guide.
Meaning of Digital Marketing
Digital marketing, also known as online marketing, is the practice of using the internet and other digital channels to deliver advertising in order to connect brands with potential customers. Digital marketing uses the internet and other forms of digital communication given-below. In short, digital marketing refers to any marketing campaign that uses any of the following online media channels.
Search engine Optimization (SEO)

Social media Marketing

Mobile apps

Websites

Email

Web-based advertising

Text messaging
Today's consumers rely heavily on digital tools to do their product research. According to HubSpot Research, 77% of consumers look up a brand online before engaging with it. While 51% of consumers claim to research products on Google before making a purchase.
Types of Digital Marketing
Digital marketing can be broadly classified into eight categories: Search Engine Optimization, Social Media Marketing, Pay-per-Click, Content Marketing, Email Marketing, Mobile Marketing,  Affiliate Marketing and Marketing Analytics.
Search Engine Optimization (SEO)
Search engine optimization, or SEO, is the process of improving a website's technical setup, content relevance, and link popularity so that its pages are more accessible, relevant to user search queries, and popular with users in general. As a result, SEO helps search engines rank these pages higher.
The purpose of SEO is to improve a company's ranking in Google search results, which subsequently increases traffic from search engines to the company's website. To do this, SEO marketers look up the terms and keywords people use to search for information online and incorporate them into their own content. 
Social Media Marketing
Social media marketing (SMM) refers to the type of digital marketing that uses social media apps as a marketing tool and uses them to connect with their audience to:
develop a brand;

enhance sales;

Increase website traffic; and

Develop a community of followers who will share and interact with your content.
Pay-Per-Click (PPC)
Pay-per-click marketing describes sponsored search engine results and paid advertisements. Since you are only paying temporarily, the ad will disappear once you stop doing so. This is a short-term form of digital marketing. PPC is a method of boosting search traffic to a website for a business, much like SEO.
Pay-per-click advertisements include those that appear at the top and sides of search results pages, those that appear while you are browsing the web, those that appear before YouTube videos, and those that appear in mobile app advertisements.
Content Marketing
Content marketing refers to a digital marketing strategy that is used to entice, engage, and retain target audiences by creating and sharing relevant content—articles, videos, podcasts, and other media. When it comes time to buy what you sell, this strategy establishes expertise, increases brand recognition, and keeps your company at the top of customers' minds.
The ultimate objective is to persuade the reader to take a step in the direction of becoming a client, such as asking for more details, joining an email list, or making a purchase. Blog posts, documents like white papers and e-books, streaming video, podcasts, and a lot more are all examples of "content."
Content marketing is more than just making a single sale; it's about developing a long-lasting, trustworthy relationship with your audience that may result in numerous sales down the road.
Email Marketing
Email marketing is a form of digital advertising that can inform the clients on your email list about new goods, special offers, and other services. Educating your audience about the benefits of your brand or keeping them interested in your content in between purchases can also be a gentler sales technique. It might also fall somewhere in the middle. 
Mobile Marketing
Mobile marketing is a multi-channel, digital marketing strategy that uses websites, emails, SMS and MMS, social media, apps, and other mobile devices to connect with a target audience.
Affiliate Marketing
In digital affiliate marketing, a business owner or vendor permits third-party websites (affiliates) to advertise their goods and pays them for the leads or sales they bring in. Vendors and publishers work together for everyone's benefit in this situation. 
Marketing Analytics
The analysis of data for marketing purposes is known as marketing analytics. Businesses are able to better understand what motivates consumer behavior, hone their marketing campaigns, and maximize their return on investment by applying technology and analytical processes to marketing-related data.
Career in Digital Marketing
With 860,000 job openings, LinkedIn claims that the position of "Digital Marketing Specialist" is one of the top 10 most in-demand positions. Social media, content strategy, SEO, analytics, and other aspects of digital marketing are among the most in-demand skills.
In 2018, 69% of businesses want to increase their marketing staff. Digital advertising (45%), content curation and development (42%), and content strategy (39%) were the skills that were most in demand. (McKinley, 2018 Marketing Trends).
Career in digital marketing: Higher Level Digital Marketing Job Titles
Digital Marketing Strategist

Digital Marketing Manager

Social Media Manager

Digital Marketing Head

Paid Advertising Manager

Digital Branding Head
Career in digital marketing: Junior & Mid Level Digital Marketing Job Titles
Digital Marketing Intern

Digital Marketing Executive

SEO Executive

Link Building Specialist

Social Media Specialist

Google Ads Specialist

Email Marketing Specialist

Web Analyst

Online Reputation Executive

Content Marketing Executive
The fact that the industry is constantly changing as new platforms are introduced is one of the reasons a career in digital marketing is so exciting. A manager of digital marketing is constantly keeping an eye out for trends and assessing how they affect discoverability.
Getting experience in digital marketing covers pretty much all facets of a brand's online presence. Digital marketing managers monitor search engine updates to see how they affect website rankings. The marketing team as a whole then collaborates to develop a strategy.