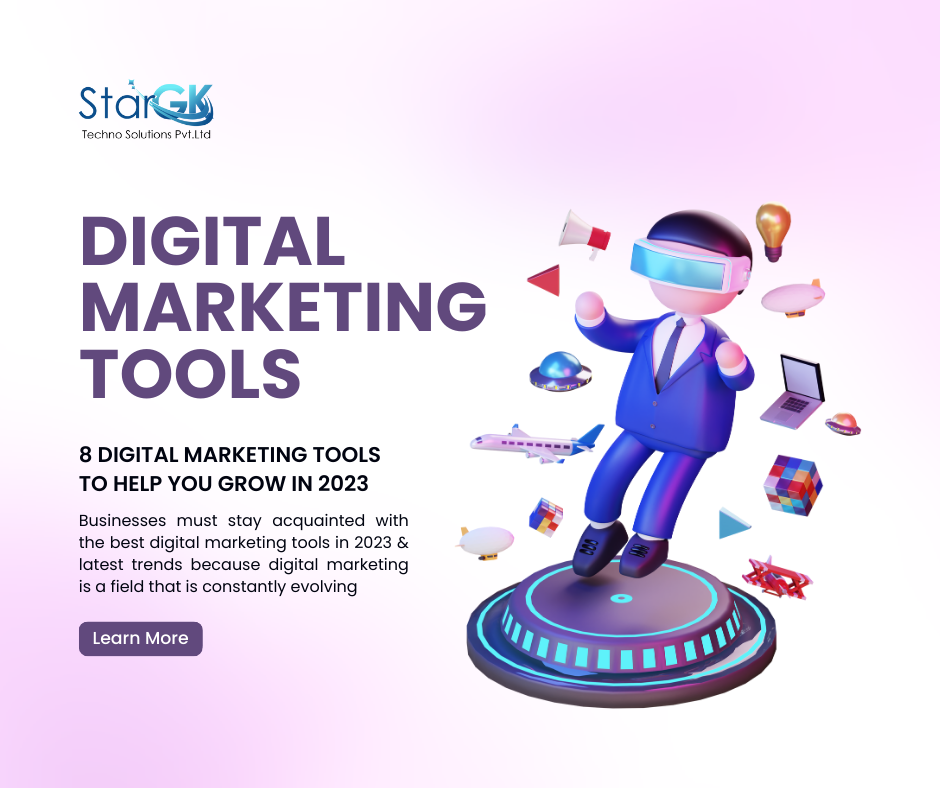 8 Digital Marketing Tools To Help You Grow In 2023
With the new year, new trends in digital marketing are inevitable to come along. And that is good, as new trends and a change in mindset from technical digital marketing to anticipation marketing are offering marketers the ability to learn what customers desire and then feed that information into automation processes. This new way of thinking will not only increase productivity but also enable effective customization.
If you are a digital marketer looking to improve your marketing strategies and ROI, you must aware of certain digital marketing tools that will help. With the proper "digital marketing tools 2023", you will be able to execute your marketing strategies effectively. These tools are intended to keep things organized while allowing you to make changes as & when needed.
In this write-up, we are highlighting some strong & agile digital marketing tools 2023 that will let you outperform your marketing initiatives in 2023. Here we go…
Top Innovative Digital Marketing Tools 2023
Google Analytics
Google Analytics is a powerful digital marketing tool that can assist you in improving your digital marketing strategies and take a variety of online marketing decisions. You can simply track both your e-commerce business & the objectives and thus help your business to stay on course. Digital marketers may easily comprehend the directions and make alterations to website updates based on the countless data insights offered by Google Analytics. And it is very simple, all you need to do to get started is install Google Analytics on your website.
MailChimp
A well-known name in the email marketing industry, MailChimp is another innovative digital marketing tool 2023. The tool is very useful for email campaigns that allow you to engage with your audience effectively. It is a social advertising and email marketing platform for orchestrating and automating digital marketing campaigns. It is one of the best digital marketing tools for improving your campaigns and tracking traffic. Furthermore, the platform supports multiple integrations with various SaaS companies. 
Google Ads
No matter how big or little the business is, Google Ads is a popular digital marketing tool 2023 to promote any size of any type of organization. Although a lot of marketers believe Google Ads is too pricey, it is one of the most effective online digital marketing tools that may grow your company well.
Benefits of Google Ads include
Boost website traffic

Increase the number of consumer calls with a click-to-call button

Boost customer traffic in your stores
Yoast SEO
One of the most popular and widely used WordPress plugins, Yoast SEO is also one of the best digital marketing tools that assist digital marketers in optimising their websites to rank higher in search results.
Yoast SEO offers assistance in areas where WordPress is limited, such as sitemap submission, content creation, keyword management, etc.
Ahrefs
Ahrefs is one of the popular online marketing tools that offer a range of search engine optimization tools to assist you to optimise your website based on your marketing initiatives. 
With its enormous data index and primary application of checking backlinks, the digital marketing tool is undoubtedly one of the most in-demand by digital marketing professionals.
SEMRUSH
SEMRUSH is a comprehensive digital marketing tool 2023 that uses SEO, content marketing, advertising, market research, social media management, and search engine reputation management to increase a company's online visibility.
Benefits of SEMRUSH include
Increases organic traffic using SEO tools & processes

Help in the creation of content that ranks

Reveals the techniques of competitors
Hubspot
Hubspot helps companies in generating, managing, and optimizing the content for their websites and blogs. It offers a set of the best digital marketing tools, a CRM (customer relationship management) system, a marketing automation tool, and a content management system (CMS). It also offers tools for managing social media, email marketing, analytics, and reporting. It also offers a number of paid editions with extra features and functionalities in addition to the free version.
Loomly 
Loomly is a social media management tool and digital marketing calendar that helps users plan, create, and publish content across multiple platforms. It has a calendar view for scheduling posts, a content library for storing and organizing assets, and a post preview feature for previewing content on various platforms. It also provides collaboration tools and analytics for tracking performance and engagement.
Conclusion
Businesses must stay acquainted with the newest digital marketing tools 2023 and trends because digital marketing is a field that is constantly evolving. It's crucial to keep in mind that different digital marketing tools will work better for various firms depending on their particular objectives and target market.
It is critical to understand that different online marketing tools will be more effective for different businesses, depending on their specific goals and target audience. The key is to experiment and find the best combination of tools for you. Furthermore, it is critical to stay current on new trends and developments in the digital marketing world so that you can adapt and capitalize on new opportunities as they arise.