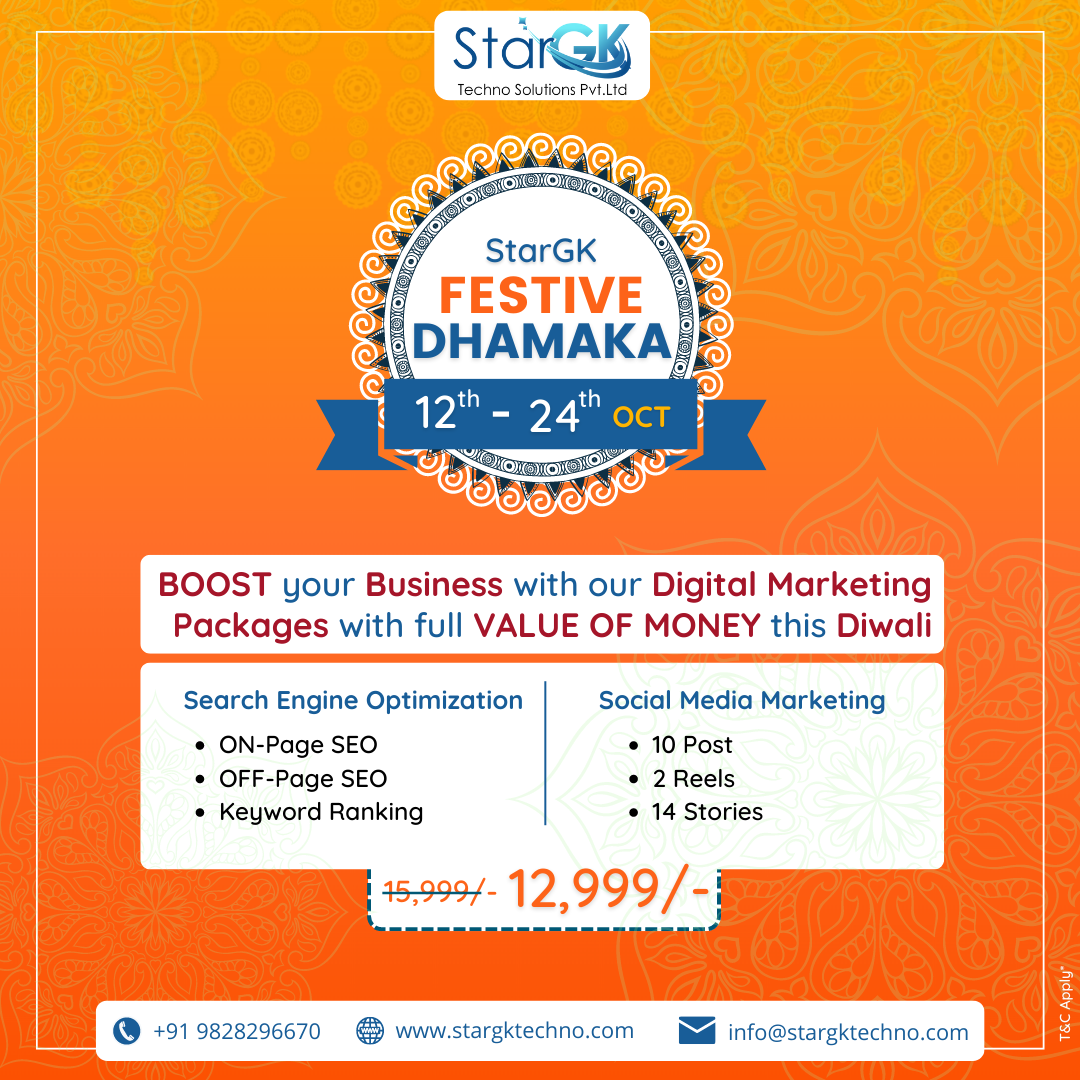 Digital Marketing packages in India
Marketing tactics have changed. Businesses are increasingly turning to digital marketing rather than relying on conventional methods. As the global economy moves toward digitization, the importance of digital marketing grows each day. Small businesses, large corporations, students, newcomers, and traditional marketers, all understand the significance of digital marketing. 
What exactly is digital marketing?
Digital marketing campaigns are those that appear on a computer, phone, tablet, or other device. Online video, display ads, search engine marketing, paid social ads, and social media posts are all examples.
The Importance of Digital Marketing
The significance of digital marketing stems from the fact that it is low-cost and provides a plethora of options for connecting with potential customers all over the world. Content marketing, email marketing, and social media marketing all help to increase brand awareness and educate customers on your products/services.
Paid promotions, link-building strategies, and other digital marketing strategies help to make your site visible on the internet. As a result, you can accept orders from multiple sources without investing in a sales team.
Digital Marketing Packages in India
As digital marketing cost remains the driving force behind every digital marketing decision, one question stands out: How much do digital marketing packages cost?
In today's fast-paced digital world, where people pick up their phones before opening their eyes in the morning, you can't expect to succeed in any field if you're not exposed to the benefits of digital marketing. So, find out the digital marketing pricing packages and take a step closer to the success of your business!
The seemingly simple question may necessitate a multi-faceted response. We have attempted to simplify the complexity of digital marketing packages and how much they cost in India in this post so that you can make an informed decision and embrace digital marketing positively.
Remember that each digital marketing price list differs depending on the digital marketing agency you choose. The digital marketing costs listed here are based on a combination of standard research and our own digital marketing pricing.
Most businesses hire digital marketing agencies to handle the associated activities. These agencies have their own digital marketing pricing structure for the services they provide.
You can find inexpensive to expensive digital marketing package structures, and it is entirely up to you how you proceed.
Digital marketing agencies work hard to increase brand visibility and lead generation so that you can get better services at a lower cost.
While many factors influence digital marketing pricing and budget, given the size of your company and the scope of your project, the average cost of the digital marketing budget for small businesses ranges from 20,000 to 100,000 per year for SMBs.
Keep in mind that digital marketing is an ongoing process, so your budget may increase as you expand.
Our Digital Marketing Pricing Packages in India
Looking for a digital marketing proposal to use in India?
Please see the Digital Marketing Quotation provided below to determine how much you should expect to invest in Digital Marketing Services in India.
We provide a digital marketing package of INR 12,999/-. We have a digital marketing pricing package for different stages of business, so please contact us and check our digital marketing package in India. We will assist you in budgeting for digital marketing. Feel free to contact us to get a custom digital marketing proposal for your business right now!