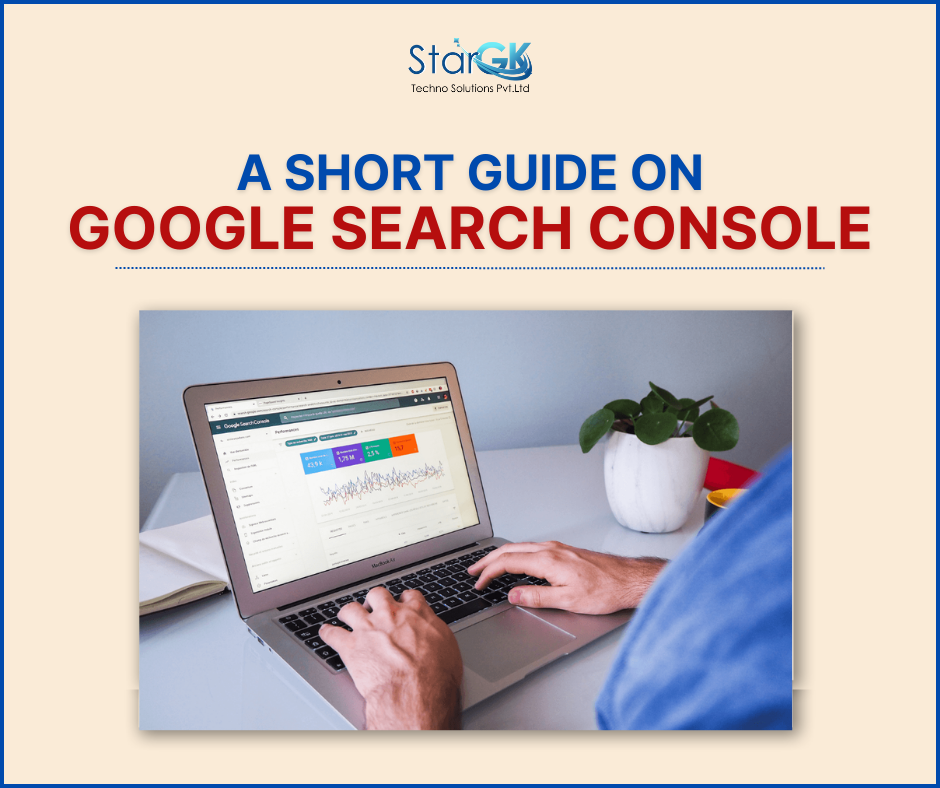 A short guide on google search console
If you are a business owner trying to upgrade your website, then you might have about Google Search Console. If you're not known with Search Console you may not realise how essential it is.
Search console is a free tool offered by Google Search engine to help webmasters analyse the health of their site in the given index. However, What is the use of Google Console in (SEO)Search Engine Optimisation? what is Google Search Console used? 
It is essential to know all about what google search console does period you can understand how valuable it is for the business's long-term success and website's performance. 
Google console tools are an invaluable resource to marketers because of all the tools it provides to help make sure websites are performing well in the Google Search engine and the tools it offers for them to analyse their success with insight. Moreover, the statistical data offers, a search console that gives webmasters for solving issues that could stop them from performing well. Thus what exactly is it?
What is Google Search Console?
Google search console is a key tool that helps users see fixed issues in keyword performance, calculate their site's traffic and receive messages from Google about the website.
It offers insight into how a site is doing in organic search and ways to make adjustments to the website in the Google index. Unlike Google analytics though, Search Console offers info for insight that comes from web searches, not from traffic from ads, or site referrals.
Search console begin 15 years ago by Google when it was still officially called "Webmaster tools". Since then the nomenclature has changed and its functionality has transformed a lot as well, but its cause is still the same.
You can't use the Google Search Console directly to make changes to your website, however, you can add pages to the google index, to verify that the URLs are good and to find errors across your domain property.
For SEO in particular Search Console is essential too for adjusting ideas. The data from the Google search console blogger allows your businesses to discover high-ranking opportunities, boost existing performance, and learn how exactly clients are coming to their site.
This means it's an essential tool for any business owner that relies on the website for client experience or to generate sales through insight.
Learn about making up an account and how using a search console for search optimisation cam[aign can help your business grow in the long term. Once you have an account you can start to explore what Google Search Console is used for in Search Engine Optimisation.
What is Google Search Console Used For?
You have learned about the Search Console. Also, you have learned how search consoles allow businesses to monitor their website's performance online, but not really in detail.
The truth is that the Search Console is the best platform that offers a lot of different keys for various purposes – you may not know them all until you know about each one individually. 
So what is the use of Search Console when Google already offer an analytics tool? What does Google search console do that's different from what you see in the analytics?
The truth is that there is an intersecting between Google Search Console and Google Analytics in that they both help you measure traffic to your website, and they both help you to cease traffic by URL, and mobile.
Using Google Search Console for Traffic
For various online businesses, the essential resource in Search Console is the Performance report. As the name implies this section of the platform gives businesses important information on their organic performance and can help them track important key performance indicators for business success and continual growth.
The performance report offers metrics about insight coming to a business's websites as well as every URL. It gives data about clicks, impressions, CTR, and average keyword rankings. Let's know about them in detail:
Clicks
The clicks metric reflects the sum of clicks from searches that result in users visiting your site. Unlike Google Analytics these clicks don't represent the user's session or even page views. Clicks are just that.. clicks. This is one of the best parts of why the clicks you see in the search console do not match with the sessions you see in the landing page (web pages) report of analytics; because google measures these metrics with slight differences. 
Impressions
This is defined as how many backlinks to your website a user say on Google search results. An easier way of telling how many times your website appears in search results, even if they don't get many clicks. Your results aren't counted as impressions if they show on the next page of search results that the individual did not click on.
CTR
The CTR metric stands for click-through rate and is a calculation of how many clicks the site has received, divided by the various impressions received.
Average Position 
Average Position means the average position of the peak results from your website for a given keyword. Average is given here so that the position fluctuates often, take or give a few spots.
Conclusion
Google Search Console is a free Search console tool offered by Google that helps you analyse, maintain and troubleshoot your website presence in search engine results. You don't have to sign up(give details) for the Google search console to be included in search results; however, the search console allows you to understand and improve how google sees your website.