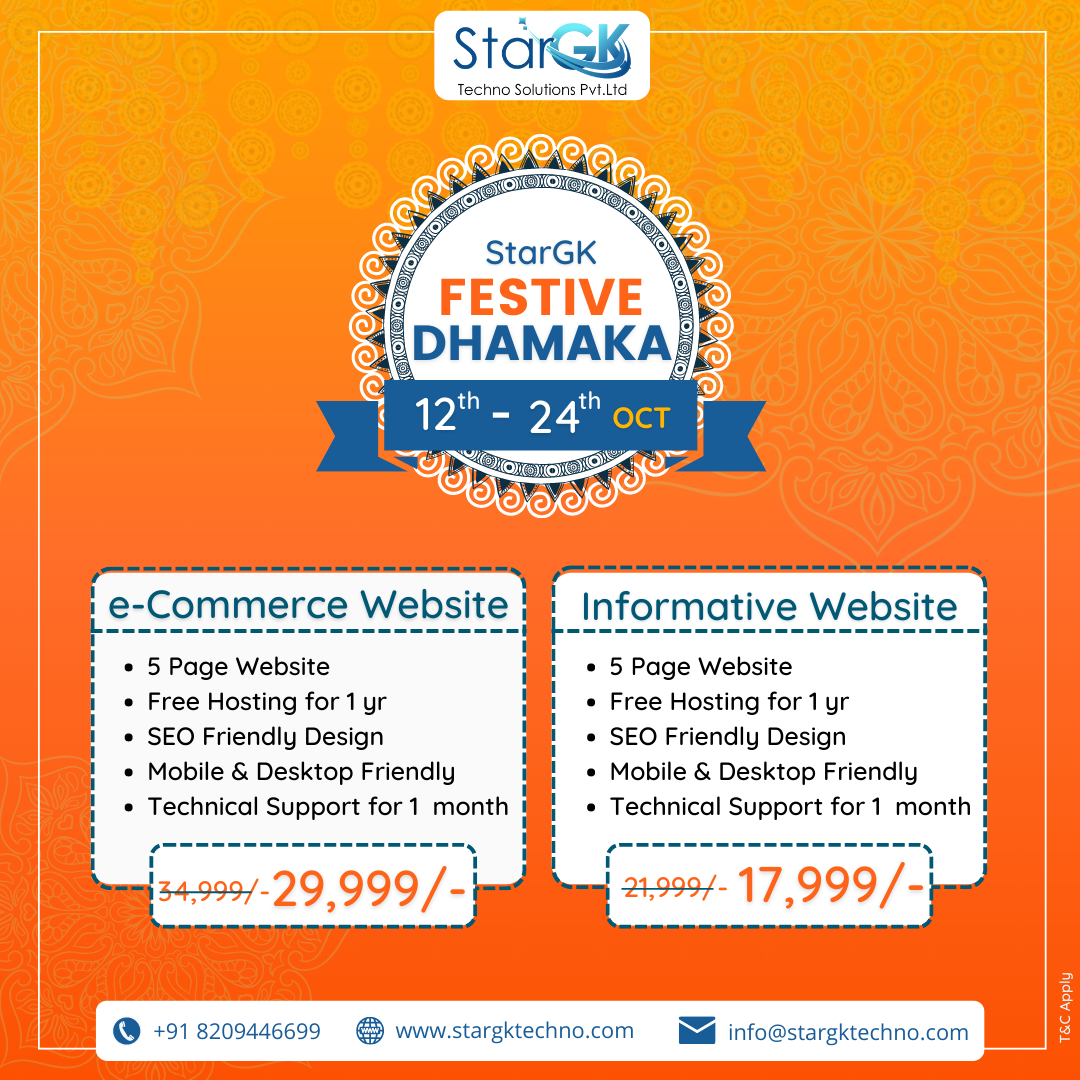 Website Development Package in India
In this digital age, most businesses have already invested in developing their own websites in order to make their products and services more accessible to their customers. Every company owners wants to see the website development packages in India. Company owners can use website design to create an online environment that is both user-friendly and welcoming, allowing visitors to access valuable information at any time of day.
Website development refers to the process of designing, developing, and maintaining a website. The main distinction between web development and website design is that the designer in website design creates the website's user interface. Web designers, on the other hand, collaborate with web developers to incorporate web design into the web development process.
Unlike website design, which can either make or break your business, the website development process defines the functionality, applicability, and functional capabilities of your website. When it comes to your target audience's perception of your business or firm, it can make or break if they become customers. A webpage with a user-friendly user interface will have a significantly higher conversion rate, which will translate into more business and profits.
Website Development Packages in India
IT companies in India plan the best website design packages with our client's interests in mind. Customers can choose the best-suited packages based on their needs and circumstances.
A healthy website is one that performs flawlessly and caters to the needs of every individual. These companies ensure to provide you with the best of our services. To meet your needs, website development companies in India offer a comprehensive range of Website Development Packages in India, allowing you to select the best suitable website design pricing and web development packages that are appropriate for your brand.
Inclusion of Website Development Package in India
Mobile Compatibility, Ease of Use, and Navigation
What exactly is responsive web design?
At its most basic, web design means that the information on your website – images, texts, videos, links – is readily and easily accessible across all platforms, particularly the much smaller screens of smartphones and tablets.
SEO Optimized, Device Responsive, and Readable
Search engine optimization is a method for improving a website's chances of ranking highly in web search tools. What many people don't realise about Search Engine Optimization is that the goal isn't to make an ideal site, but rather to make a site that is less imperfect than the competition.
Website creation is creating an online presence for an individual, group, school, business, government, or other entity. Combining SEO and Web Design is difficult because there are numerous factors to consider on both sides. There are constant battles between the strategy, the content, the programming, the promotion, and the enhancement procedures.
Reliability, Performance, and Speed
The best web design/development packages in India combine dependability, performance, and speed. The higher the transmission capacity, the faster information can be moved, which also means your site can load faster. If your site isn't supported with adequate transfer speed, it will take more effort to stack completely, affecting site execution. We are the leading entity that ensures a user-friendly environment for your customers, thereby providing you with the best website design packages and website development packages for unrivalled performance and speed.
Valid markup and clean code, as well as analytics
Because the web is constantly changing and evolving, it is critical to design sites that can grow with it and easily ride the current rather than drowning when a new wave approaches.
Valid and clean mark-up, as well as building with web standards, will not only help you achieve this but will also save you time and money in the long run. StarGK Techno Solutions ensures that the best web design/development packages are provided in order to provide effective analytics and ensure that your website runs effectively and efficiently.
Our website development package price India
e-commerce Website: 21,999/-
Informative Website: 14,999/-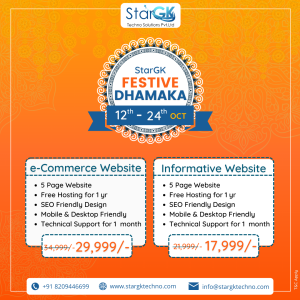 If you are looking for the best website design services and web development packages in India, StarGK Techno Solutions is the right platform for you. We provide the best services and provide a better user experience for your customers.
We make it simple for business owners to take their operations online without any hassle, with complete transparency and cost efficiency, by offering highly standardized and custom digital services in various packages.
Our team will work to provide solutions within your budget, timelines, and exact requirements, whether it is app development, social media marketing, or website development and management.
We are one of Jaipur's most effective web development company, capable of creating and customizing websites and apps for any business category. We provide the best digital marketing services in a timely manner.