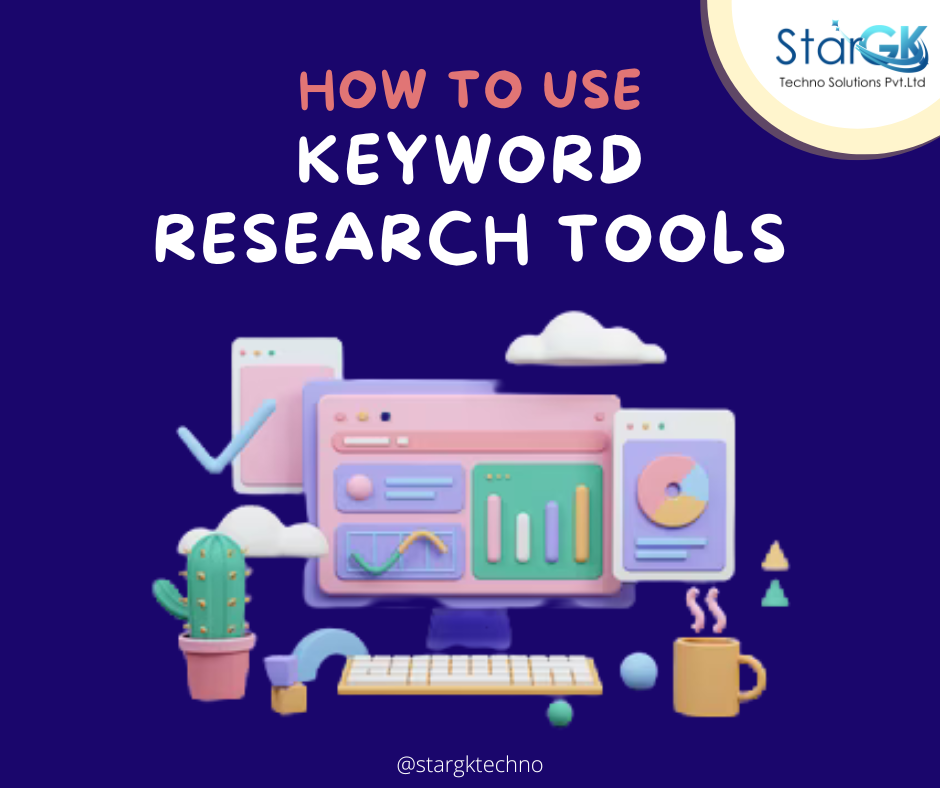 How to use keyword research tools?
Google algorithms help over 200 factors to rank the site. To give your website the best chance of standing out from the crowd, it is important to conduct thorough, research and high-quality keywords. Finding the best keywords that appeal to a target audience, developing and executing a proper keyword, shooting your webpages up the Google ranking and generating organic traffic.
In this article, you will learn the essence of keyword research and walk through how will you find the keyword research best tool for your content and ensure how it will fit your content.
What are keywords?
Keywords are something that helps search your website easy to establish and develop online content. 
From the potential customers, they are some words that are entered on the search engine and describe the products or services if someone looking for or has any questions to find the answer.
For the marketer, keyword research and discovery will basically help content in both direct and indirect ways knowing your website information and providing a higher rank, suggesting your website more frequently. 
Keywords provide a good hike to your website and help encourage the audience, revealing important information such as what they want it.
Incorporating the appropriate keywords into your content can significantly enhance the success of your business, particularly in the areas of SEO and general marketing. The aim is to have more customers and get higher sales. 
Getting started with keyword research
Prior to embarking on your keyword research journey to optimize your content, it is essential to acquaint yourself with some fundamental concepts. First, it is important to understand what makes your keyword focus and long-tail keywords different from normal keywords. 
Focus keywords are different from primary or general keywords because both need different strategies. It is the main word or phrase that your URL, title, meta description and text of your site and hope searches increase.
Longtail keywords contain 3 or more words. They are particular phrases that customers are more likely to search when they are in the buying cycle and have an idea of what they want and hence bring qualified traffic.
There are good ways for sites to set themselves apart. Looking at the search engine terms "4 slice chrome toaster," it's straightforward to imagine which will produce more specific results. 
Other concepts that will help you conduct the most advantageous and complex keywords include:
Keyword intent
Knowing how keywords play an important role during searches is an essential part of developing tactics.

Because you know your business outside and inside, you may not share the crux of your main audience. Knowing the keyword intent is to throw yourself in the potential shoe of the customer and learn the purpose of their search. 
As you find your SEO keyword research, consider whether your content truly fetches the customer's intent. 
Do they want to learn something? Are they looking for a specific website or company? Are they comparing products or services? Or, are they prepared to get it now? A perfect match for keywords that the cucumber searches and stays for a longer period and helps rank higher on SERPs. 
Leaning your niche and audience and knowing why they want what they want also help you utilize phrases as a part of longer tail keywords. Tailor your keywords with trigger words associated with various other types of consumer intent. For instance, if you are selling products or services, commercial or transactional trigger words such as buy, best, join and compare will help you rank search where people have more intent to buy. 
Monthly search volume (MSV)
Monthly search volume MSV is the average monthly searches for a keyword. By utilizing keyword research tools and websites, it is possible to obtain the entire MSV (monthly search volume) for a given keyword or even narrow it down to a specific city. While more MSV refers to more potential traffic for the site, it also implies more competition.
Topical authority
As a search engine enhances and emphasizes more related terms, quality content and natural language. You need to showcase your site's expertise by interconnecting in-depth content.  
If consumers perceive you as a reliable source of information on a particular topic, they are more likely to click on your website. Authoritative good content will help you rank highly on search engine rank pages.  
How to use keyword research tools?
Make a list of important topics that are to your business relevant.

Expand the information with proper phrases you think for customers.

Find related SEARCH TERMS. 

Determine how you rank in a specific industry.

Search the strength of your keywords.

Verify search content intent.
Conclusion
In conclusion, keyword research is a crucial aspect of optimizing your con tent for search engines and ensuring your website reaches your target audience. By identifying the right keywords, you can increase your website's visibility and generate organic traffic. Google algorithms use over 200 factors to rank websites, and by conducting thorough research and selecting high-quality keywords, you can give your website the best chance of standing out from the crowd.
It is essential to understand the difference between focus keywords and long-tail keywords, as well as the importance of keyword intent, monthly search volume, and topical authority. By utilizing keyword research tools, you can find the best keywords for your content and ensure they fit your audience's needs. Overall, keyword research is a valuable investment in the success of your business and can help you achieve your goals of reaching a wider audience and increasing sales.