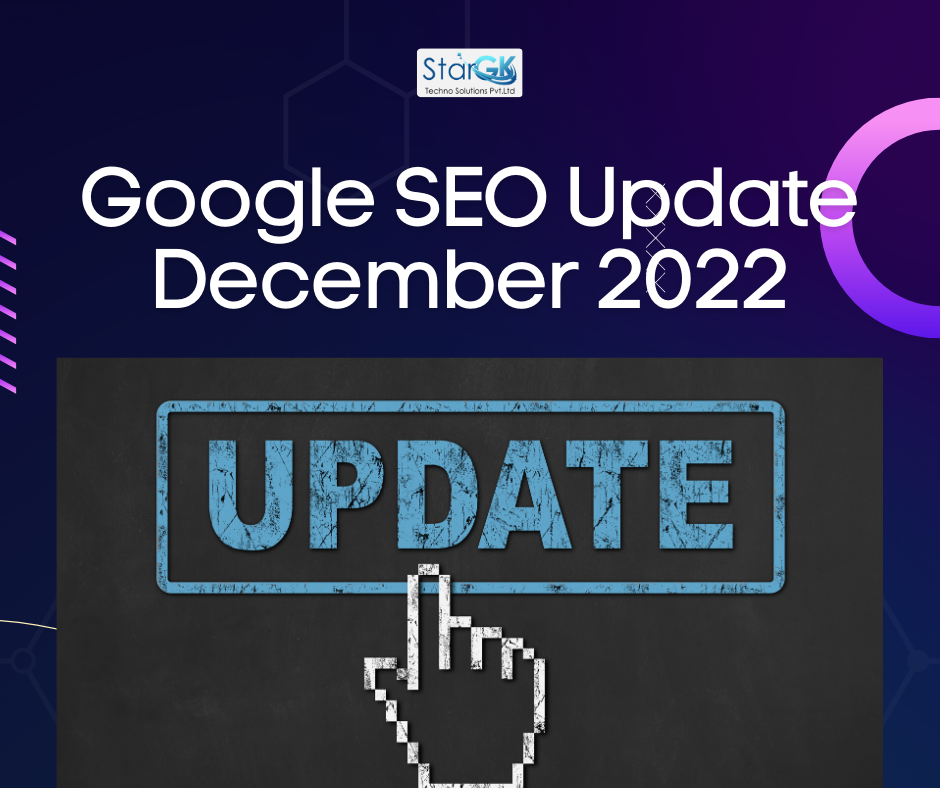 Google SEO Update December 2022
Google December SEO Update
According to Google, the rollout of the December 2022 helpful content update is now complete. The upgrade was implemented over the course of 38 days, beginning on December 5th, 2022, but becoming apparent on December 6th, and concluding on January 12th, 2023. Google said that it was finished on January 12.
Reminder: The Google update to its informative content counts as a site-wide signal. It targets websites with a disproportionately large volume of unsatisfactory or useless content originally written for search engines.
A ranking "system," according to Google's new terminology, is an augmentation of Google's algorithm that is constantly running in the background. An algorithm "update" refers to changes to ranking systems.
Google SEO Updates: Latest Google search algorithm update
The goal of Google's helpful content approach is to promote user-centric websites rather than those focused on search engines. Google aims to elevate content that is unique and beyond what is available from other publishers and offers distinctive value to the web.
This update to the helpful content system may contain new signals or modifications to existing signals in addition to the expansion to all languages. 
Every algorithm update offers us all an opportunity to improve upon the previous one. 
Google SEO Updates: December 2022 Link Spam
The December 2022 Link Spam Update, which was announced on December 14th, took almost a month to go out. Google formally declared on January 12th that the rollout of the Link Spam Update and the Helpful Content Update was complete.
The Link Spam update's goals are to increase the spam detection system's efficiency and aid in shielding users from unreliable or spammy information.
Although the particular modifications that made up this update are not yet known, it is likely to have had a substantial impact on websites that employ questionable link-building techniques.
In an announcement released after the upgrade went live, Google claimed that the change has increased the ability of its AI-based SpamBrain spam-prevention system to recognize artificial backlinks.
Google December SEO Update: What is SpamBrain technology? How does it work?
The SpamBrain technology is meant to more effectively recognize and remove unnatural connections, such as those on websites that take part in link purchasing or link-building operations. Google currently thinks that this AI system has been trained enough to the point where it can now maintain 99% spam-free search results.
In this approach, Google's latest algorithm upgrade will lower the rankings of low-quality websites unfairly benefiting from purchased backlinks.
Google is constantly working to enhance the efficiency of its spam detection system and give consumers a better experience, and this upgrade is a part of that effort.
Google December SEO Update: Language & Site Ranking
It is crucial to make sure that your linking strategies are compliant with Google's requirements.
December 2022 content update affects all languages, not just English. This will make it easier for Google's systems to identify new types of low-quality content produced primarily for search engines rather than for humans.
Additionally, Google informed us that this system had been modified with new signals to enable it to recognize more content written exclusively for search engines as opposed to people.
Google has also presented you with a list of inquiries you can make about your content. 
Latest Google search algorithm update and Google December SEO Update: Objectives
Google's content update focuses on "content that appears to have been created primarily for ranking well in search engines rather than to help or inform people."
This algorithm update is intended to help searchers find "high-quality content," according to Google. 
Content written for the purpose of ranking in search engines, also known as "search engine-first content" or "SEO content," has been widely written about and discussed on social media recently.
Google's new algorithm aims to elevate more useful, human-designed websites above search engines.
Consider Google's recommendations, make the necessary changes, and hope for a recovery in the coming months.
We hope you all found Google SEO Updates and the Latest Google search algorithm update helpful.